Introducing ACANA™ Crave-a-Bowls: a fun and creative way to craft an irresistible meal for your dog using their favorite ACANA recipes. It's also a great way to introduce new flavors, textures and proteins to their diet. The best part? Getting started is simple!
Step 1: Start with High Protein Kibble
Build a hearty foundation with your dog's favorite ACANA
™
kibble, or
choose one from our variety of delicious dry foods
crafted to balance nutritious animal protein with whole fruits and vegetables. We want your dog to feel so good on the inside that you can see it on the outside!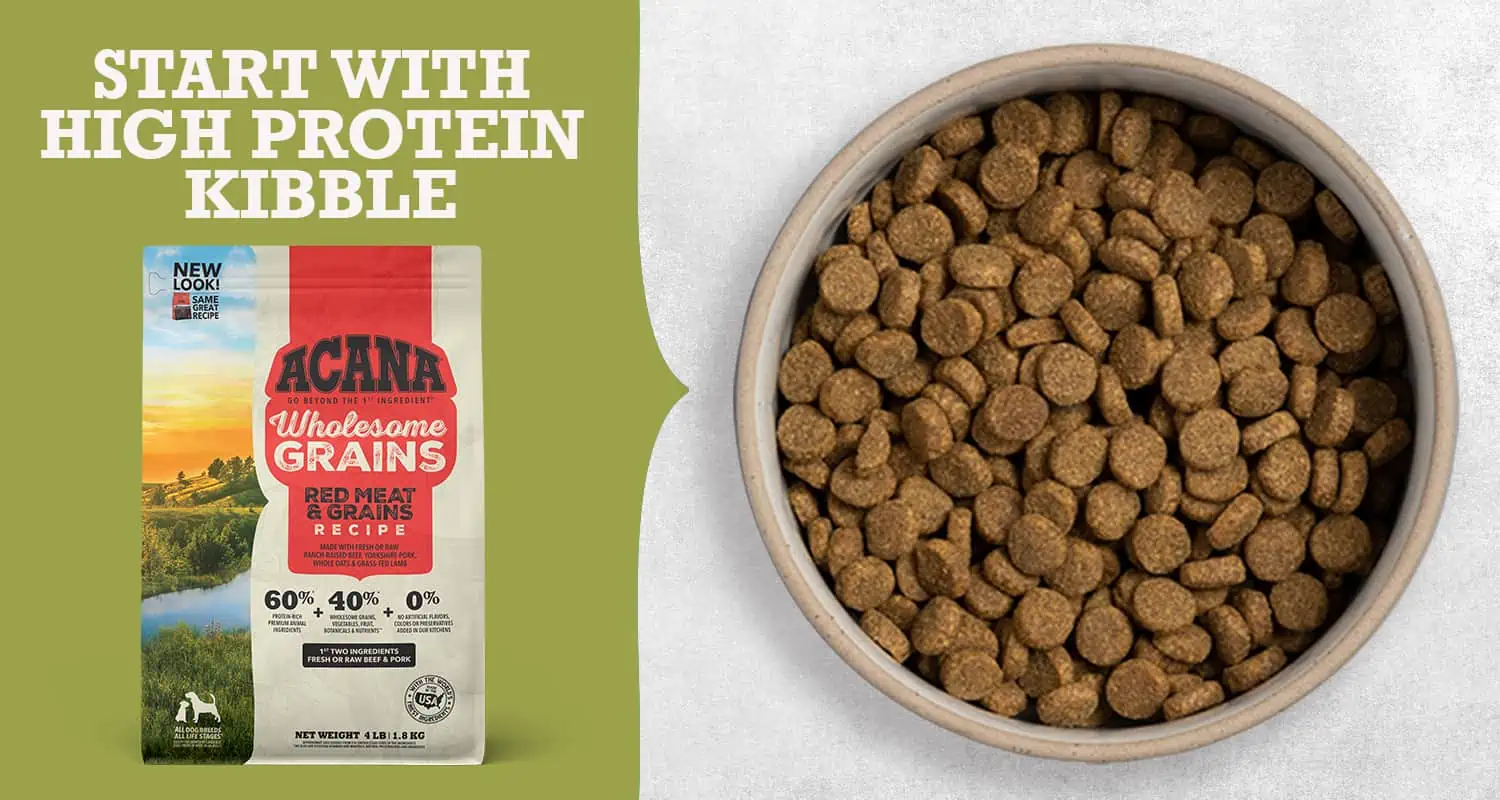 Step 2: Top with Hydrating Wet Food
Now top your dog's kibble with some delicious
ACANA Premium Chunks
With hearty chunks of meat, poultry or fish and visible fruit and vegetables, this wet food can add flavor, animal protein variety, and hydration for your dog. It's also irresistibly delicious and comes in several tempting recipes.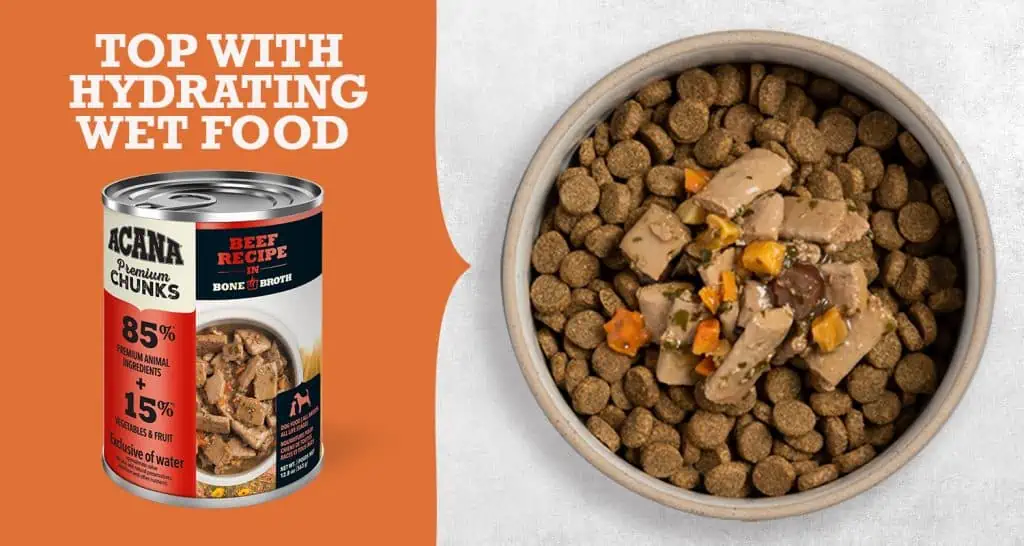 Step 3: Sprinkle on Nutritious Freeze-Dried Food
Trust us when we say no dog can resist the hearty bone broth flavor of
ACANA™ Freeze-Dried Food
. Freeze-dried to lock in raw nutrition and taste, ACANA Freeze-Dried Morsels or Patties make a perfect protein-rich, crunchy topper — a truly tasty addition to your dog's bowl. Whether you rehydrate Freeze-Dried Food with warm water or crumble it on top, be prepared for extreme tail wagging.
Step 4: Add a Fun Treat
This last step is entirely optional, but if you'd like to show your dog some extra love in their Crave-a-Bowl, we recommend adding an ACANA
™
Freeze-Dried Treat – think of it like the cherry on top!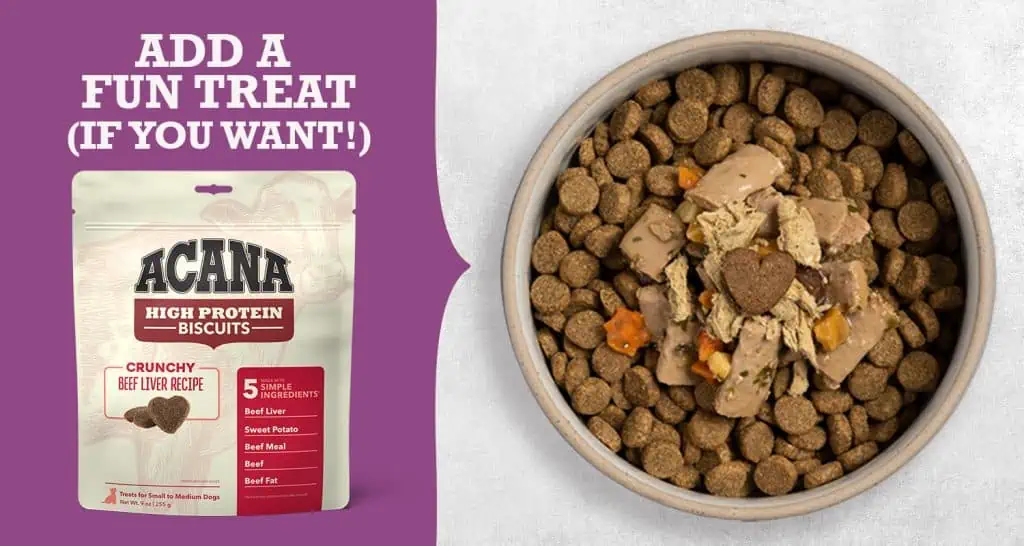 Optional Pantry Toppings:
These pantry foods are broadly recognized as safe for dogs and can make a fun garnish to your bowl building. Just keep the pantry portion small (under 10%) so your dog's calories are coming from the complete foods.*
Canned Pumpkin (not pumpkin pie mix)
Blueberries
Carrots
Beans, including green beans
Pears
Bell Peppers (without seeds)
Celery
Cucumbers
Apples (without seeds)
Cranberries
A sprinkle of sunflower or chia seeds
Pineapple chunks for an extra sweet treat!
Kibble should make up at least 50% of your pet's standard serving. Freeze-dried food should be about 25% of the freeze-dried serving. Wet food total should also make up about 25% of the serving shown on pack. There will be a portioned feeding tool coming to our site soon.
Because your dog is unique, feeding amounts may vary with age and activity. Using this chart as a guide, monitor their weight and adjust portions as needed. Be sure to feed twice daily and provide plenty of fresh, clean water.
Building a Crave-a-Bowl meal for your dog is a great way to give them well-rounded nutrition and protein variety…but it's also a great way to bond with your dog! Crafting them a meal as a member of your family is a great way to show your pet how much you love them and care about their health and happiness.
We're looking forward to seeing your ACANA™ Crave-a-Bowl creations – be sure to tag us on Instagram showing off your dog's delicious meals. We can't wait!
* You may wish to consult your vet before introducing new foods.